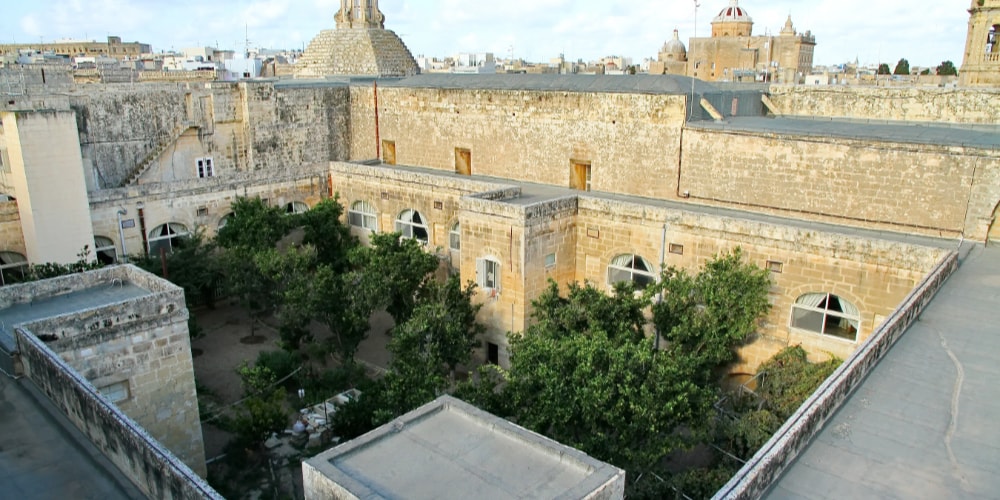 Dar Saura
Opening Hours
Monday-Sunday:
9:00-11:30
15:00-18:00
Saura Hospital in Rabat was founded in 1667 by Dr Nicholas Saura who left all his and his daughter's wealth for the building of the hospital. Further funds were provided by Rev M Azzopardi in 1762 and donations and bequests were also given by other individuals. Regulations for running the hospice were established by Bishop M G Molina in 1680.

The home is located in a zone of archaeological importance of Rabat and Mdina and lies within the buffer zone of several structural remains dating back to the Roman period.
The hospice served the sick and the elderly and was entrusted to the Sisters of Charity between 1871 and 2003. Saura Home then continued to operate as one of the homes for the elderly under the Archdiocese of Malta and now employs 57 individuals.
The residence comprises single rooms, double bedrooms, and larger shared rooms. Free internet facilities are available throughout the Home. The rooms have a nurse call for each resident. There is also a nurse call via a pull chord system in the shower room.
Meals consist of breakfast, 3-course lunch, and 3-course dinner.
The residents are encouraged to have their meals together in the dining room. The residents have a choice for both lunch and dinner including special diet meals.
Nursing care by an experienced certified team of nurses and carers.
Laundry and Domestic Services
We are committed to ensure regular daily cleanliness and hygiene for our residents.
An activity coordinator organizes daily activities and outings.
The home also includes a chapel wherein the Holy Rosary is recited and daily mass is celebrated. There is daily room service Holy Communion for those residents who are not able to attend mass in the Chapel. Our chaplain is also available for daily confession and counselling as necessary.
Chapel in the building with a daily visit of a priest including a daily mass.
Smoking is only permitted in the verandas and in the gardens. All rooms have smoke detectors. CCTV cameras are installed in the common areas.
Visiting can take place all week between Monday and Sunday during the mornings, afternoons and evenings.